So I've done a review on the Maybelline Color Tattoo 24hr Eyeshadows and these are the newly released limited edition shadows. I spotted the bright colors at Target and was so excited they had new colors out. I looked around on YouTube and found out that these 4 colors were not the only limited edition colors, there are 4 neutral colors available too but Target didn't carry them. I did little research and some bloggers said they found them at CVS. I searched my CVS and they were sold out. Well I wasn't quite sure, there was a display with other Maybelline items though. I looked at many Rite Aids and Walgreens. And no luck for a couple weeks. Then one day unexpected, hub and I went to Rite Aid by our house to pick up something real quick and I spotted them. They had all 4 of the neutral colors, one left of each! So I got them. They run a little more at Rite Aid then at Target, but Rite Aid had a sale, buy one get one 1/2 off. So it wasn't that bad. So below you can see each color. To view the swatches, watch my video, link is below, its not a long video just a couple minutes of your time. Thanks for reading.
Click here for the video.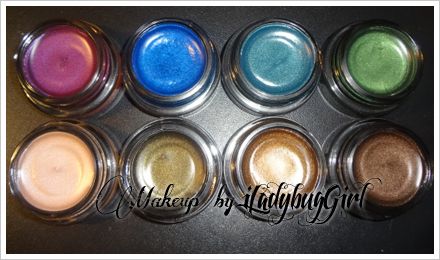 These eyeshadows have a plastic seal that says limited edition so you know which ones to look for.


Following colors are as follows:
Blue on By | Ready, Set, Green | Fuchsia Fever | Test my Teal | Barely Beige | Mossy Green | Gold Shimmer