Yesterday Alex and I got to attend for the very first time, IMATS! International Makeup Artist Trade Show. I was so stoked for this event and it was everything and more. I was uber ecstatic that I got to meet a ton of YouTube makeup gurus. One of my faves that I had the honor of meeting was the incredible JulieG713. She had a little brush giveaway after her live tutorial and I luckily got a kabuki brush and a stippling brush! A few very recognizable faces from the YouTube community that I also ran into were Elessa of Pursebuzz, Koren of Enkore Makeup, Lauren Queen of Blending, Leesha of xsparkage and Josh aka pertilude and Amy, not a YouTuber, but she's the owner of SugarPill Cosmetics! I'll include some photos from the event. I also got to purchase the Sweetheart palette from sugarpill I really wanted both palettes but since we went on Sunday they were already sold out of the Burning heart palette by then. So sad. Guess it looks like I gotta get the other online now. Oh well, I really really want it lol. We checked out a lot of stuff there like Crown Brush, Obsessive Compulsive Cosmetics, Two Face, NYX and a bunch of other exhibitors. Alex and I are already talking about planning a trip to IMATS 2012.
Alex and I waiting in line for them to open at 10am.
Click here for the video.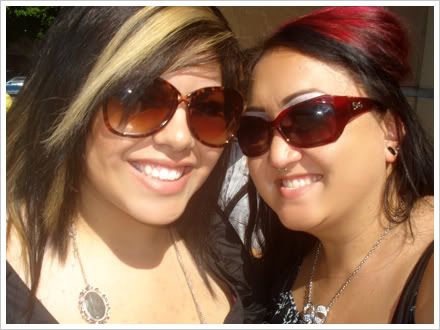 First things first we met Amy at her SugarPill Cosmetics booth. She's so adorable and I love all the color!
The first YouTube Guru I ran into,
MakeupByTiffanyD
.
It was amazing meeting Koren of
Enkore Makeup
. He was so nice and talked to me for a bit. He liked my make up too!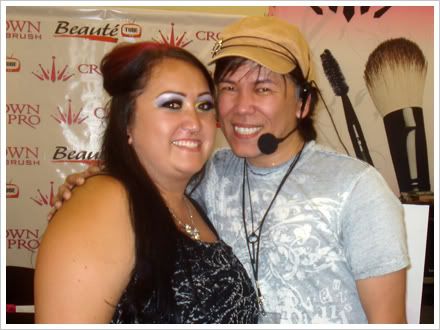 I had to wait in line to meet Elessa of
Pursebuzz
cause she's super popular. She was so sweet and when we were gonna take a pic I had all my bags and purse, she was like, "girl you can't have all this in the pic, set them down." something like that lol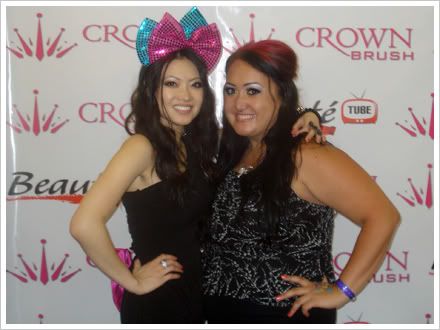 I knew
Josh/Petrilude
was gonna be at the OCC booth but since he was in drag I wasn't sure if I'd spot him out. I think I would of but I saw the line of fans waiting to take pics with him. He's an amazing MUA. I ran into a few times while I was there and he said hi every time. He's fabulous!
My buddy Tiffany was suppose to meet us when the show started but she was late but we still met up in the middle of the day. She had a lot of fun and got a lot of goodies on the way.
Queen of Blending
, Lauren. She walked by during JulieG713's live tutorial so I had to run over to her and take a pic. I don't know if she was on her way to something but we didn't get to talk. =(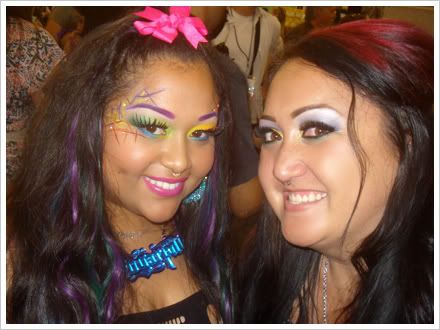 Julieg713
is my absolute favorite YouTube Guru of all freakin' time. I was so so so stoked that I got to meet her. AND she remembered me from my old YouTube makeup tutorial videos. I was so excited she remembered me =D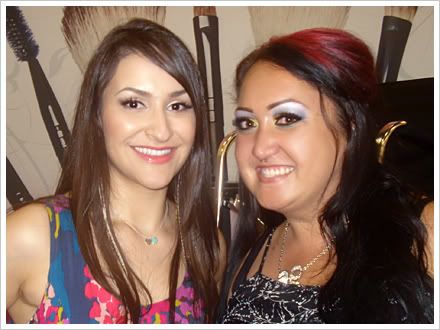 I was looking for Leesha aka
xsparkage
all day and I spotted her when we were about to leave and she was doing makeup on someone so I patiently waited for her to finish. She took some time to talk to me and I find that amazing in people to be truely interested in what their fans have to say. I really enjoyed our talk.
The stuff I purchased at IMATS. I got the sweetheart sugarpill palette 30% off so instead of $34, I paid $23.60. Great deal and the Inglot 20 eyeshadow palette I spent $72. Not sure how much it usually is but I know the 10 eyeshadow palette is normally $50 but it was $37 at IMATS. I also got NYX eyeshadow base, two jumbo pencils in Milk and a white chrome eyeshadow. I got 2 free brushes thanks to JulieG from the Crown Brush booth along with my 3 purchases, one blending brush and two sponge tip brushes. I'll do swatches of both palettes I got soon.